Systems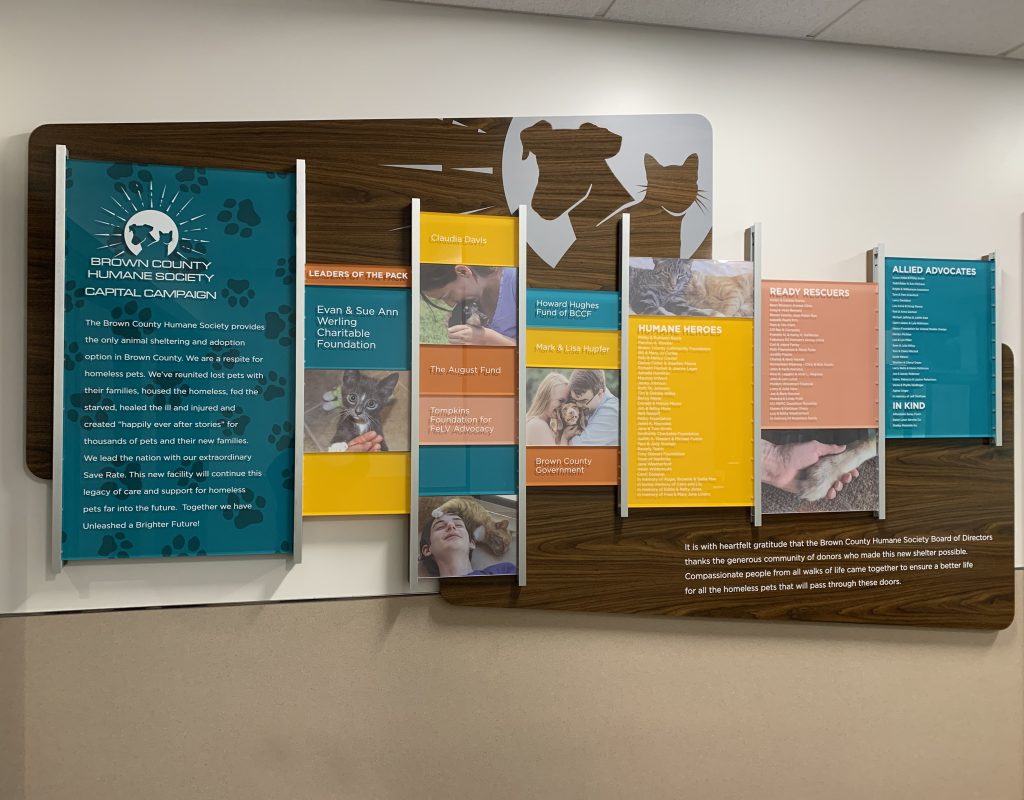 POLARIS SYSTEM
The Polaris System allows the user to move, remove and update their nameplates easily by the use of magnetics hidden behind sleek rails. This system can be designed with a variety of materials that can enhance your environment. Nameplates can be made of acrylics, solid surfaces and laminates. The Polaris System can be seamlessly expanded upon in the future by adding additional columns. It can also include photo placeholders that are removable and replaced with additional nameplates at a later date. Polaris is ideal for curved walls as it is made of a series of narrow columns and can follow any radius.
---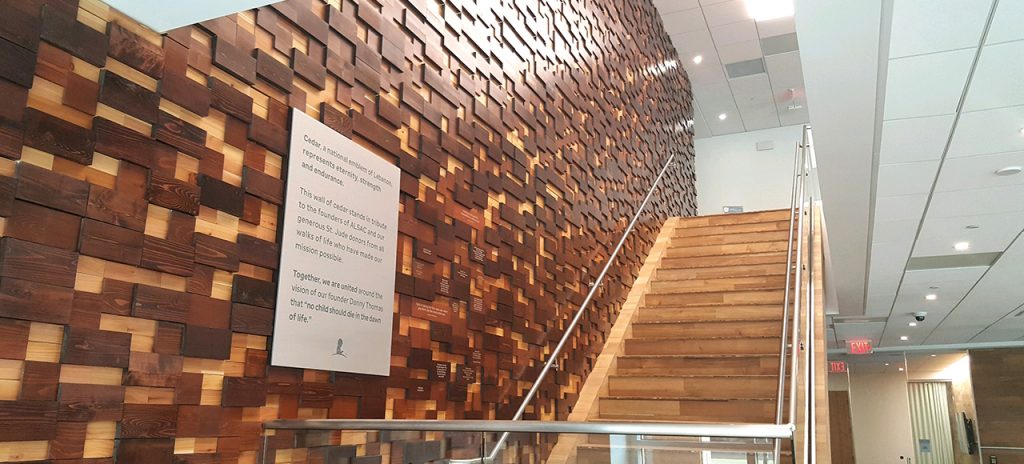 MAGTECH SYSTEM
Our MagTech System allows you to move, remove and update your nameplates easily by the use of magnetics. The MagTech is one of our most versatile systems using a variety of materials that create a unique look to fit into your decor. This system allows for the inclusion of digital photographs that can be used as placeholders and removed for future names. The MagTech system can be manufactured from solid surface (Corian), laminate, marble, granite and other synthetic materials.
---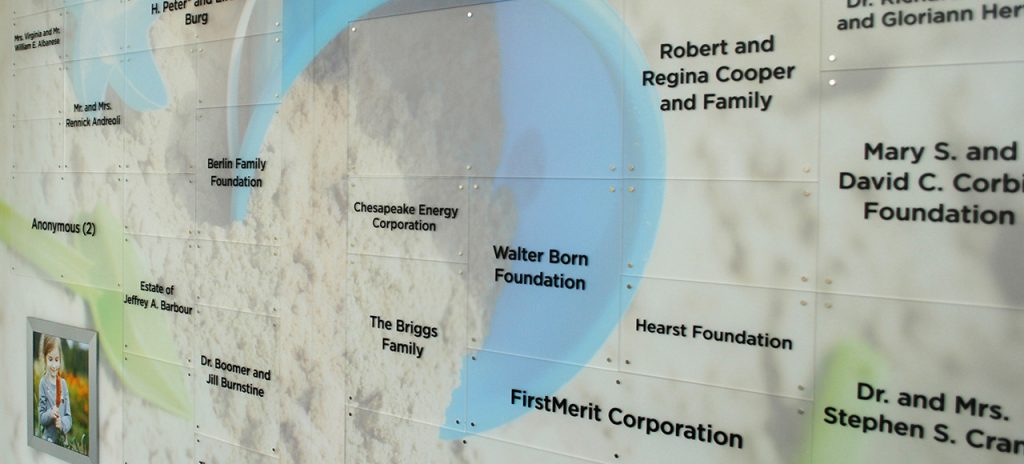 CLEARTECH SYSTEM
The ClearTech System is seamless while still using nameplates. The translucent acrylic nameplates allow an uninterrupted image to flow behind the nameplates, while still showcasing the donor names. The nameplates include small, embedded magnets that cling to a shallow inset base. The ClearTech System lends itself to an updated, contemporary feel.
---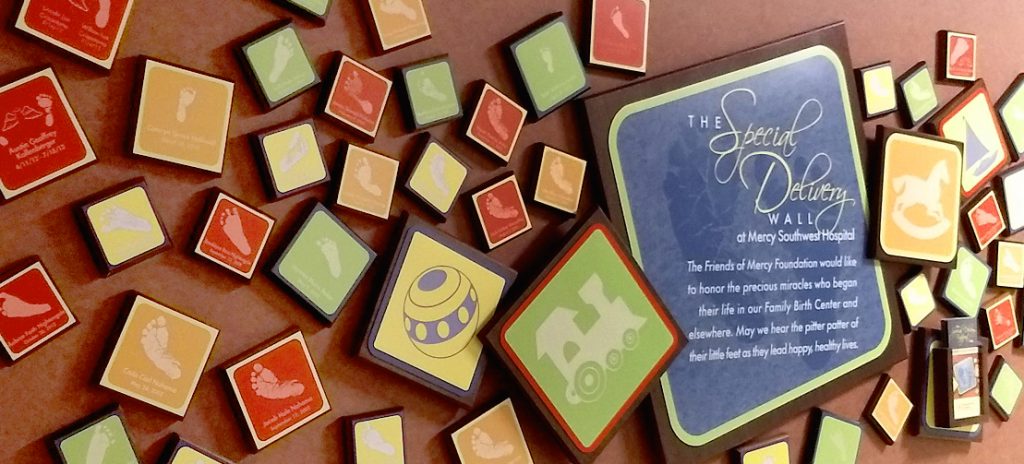 ADD-ON SYSTEM
Our Add-On System allows for the customer to have total control of the placement of their nameplates. Typically a title plate is created and adhesive-backed nameplates are placed in a free-form array around the wall. Various size nameplates often take the shape of leaves, stars, circles – whatever shape fits into your theme.
---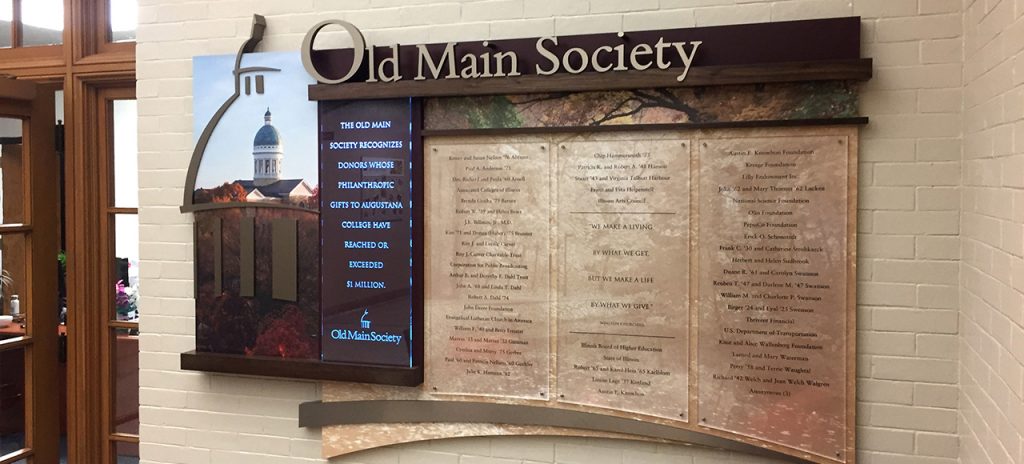 CLEAR CHANGE SYSTEM
Our Clear Change System provides you an easy and cost effective way to update any list. Clear film acetate is mounted behind scratch resistant acrylic, which is held flush to the wall with caps. The Clear Change System is a seamless approach to recognizing donors, allowing imagery to continuously flow behind the names.
---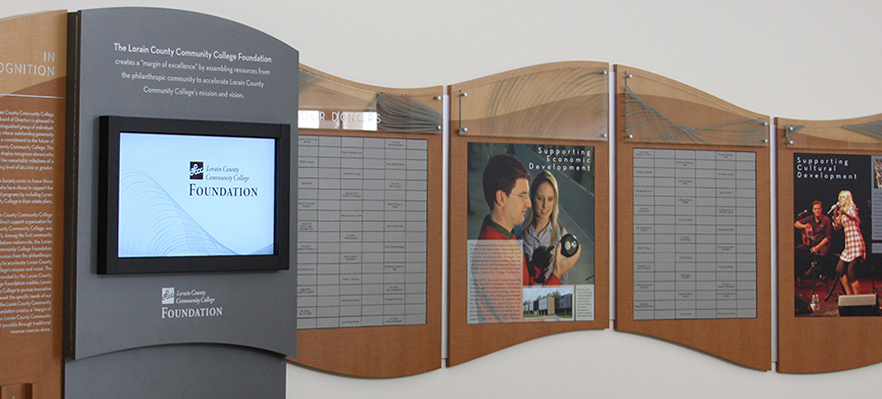 INTERACTIVE COMPUTER KIOSK
Our Interactive Computer Kiosks offer an endless variety of information that can be displayed: name listings, historical information, video clips, donor highlights, wayfinding, or other information you may want to share. Our kiosks can be a freestanding unit or combined into a wall display.
---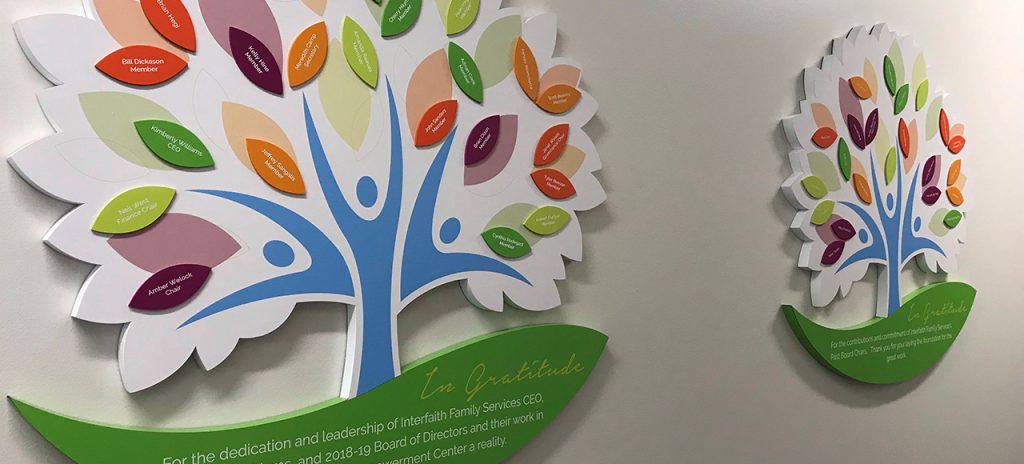 PRE-DEFINED AREA SYSTEM
Our Pre-Defined Area System allows for the adding of names but not moving them after they have been applied. This system consists of a base with pre-etched lines on it for the placement of nameplates. The Defined Area system is a good choice for a display that lists names chronologically such as a Hall of Fame or Past Presidents display.
---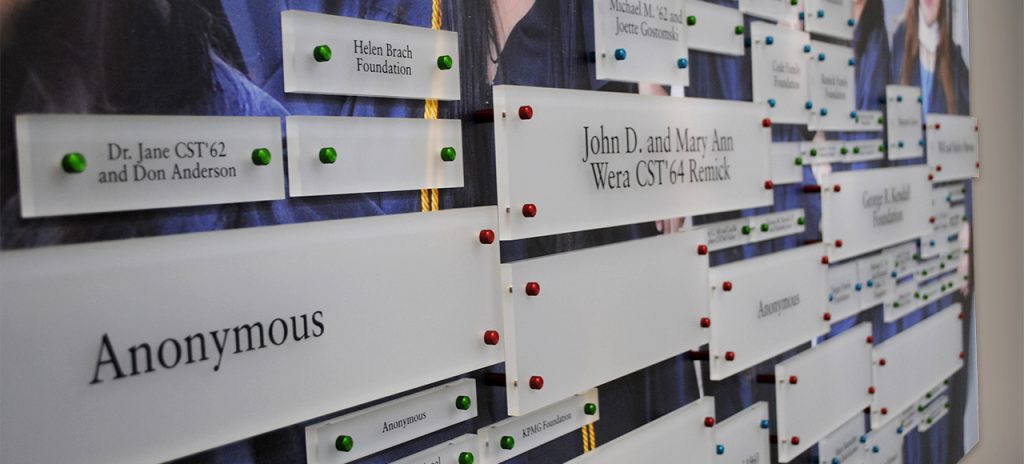 STAND-OFF SYSTEM
Our Stand-off System allows for updating names on a variety of substrates. Glass, acrylic or other materials are suspended on metal posts and caps giving a dimensional look to your display. Varying depths are also possible to further create a more dramatic look.
---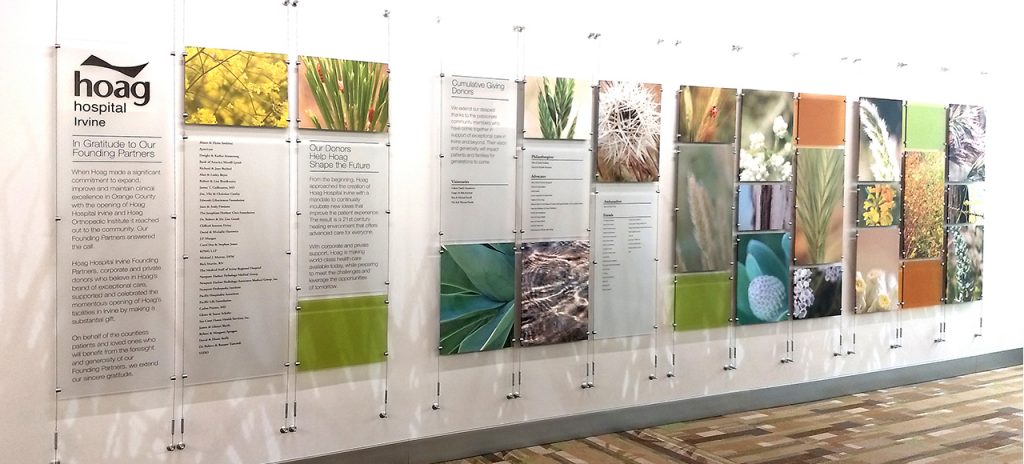 WIRE SUSPENSION SYSTEM
Our versatile Wire Suspension System provides easy updates and the use of our other systems as well. The cable system can be used on walls or as a two-sided piece over windows. It can mount from floor to ceiling or anchored directly to the wall. Many materials can be used with this cable system and can provide an option of using our Clear Change, Add-On, Pre-Defined or Stand-off Systems for flexibility.
---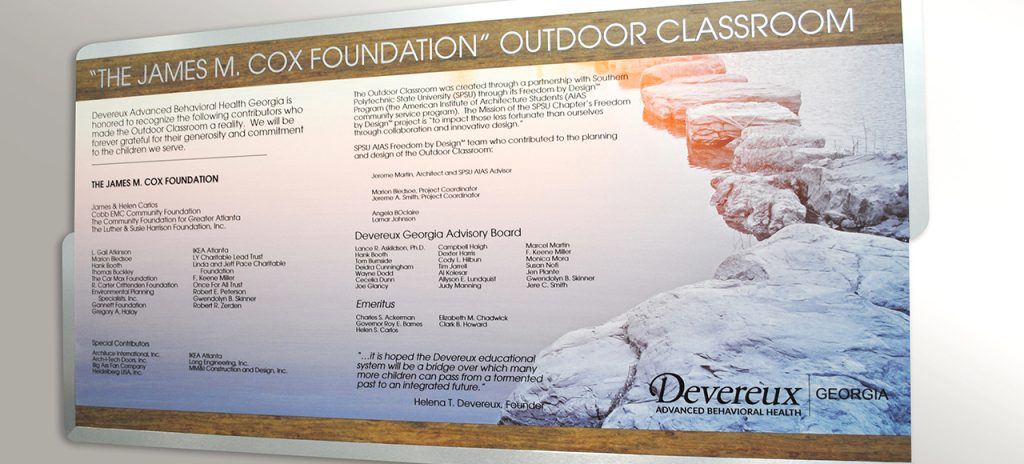 PERMANENT SYSTEM
Our Permanent System is used for closed campaigns or information that does not need to change. We etch into a variety of materials including: solid surface (Corian), laminate, glass, metal, and wood. This system is used primarily for Capital Campaigns or historical tributes.
---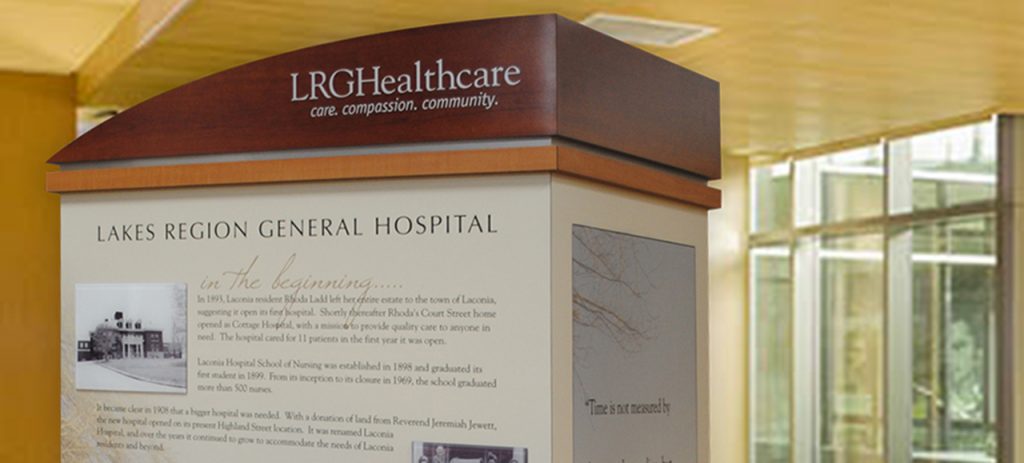 PORTABLE DISPLAYS
We offer displays that are portable so they can be taken to conferences, meetings and other dedications or gatherings. We can design and build a display that you can use both in a permanent location and then move to an easel for displaying on location. We can also manufacture a display that is freestanding and is segmented so that it can be taken apart, moved and re-assembled.
---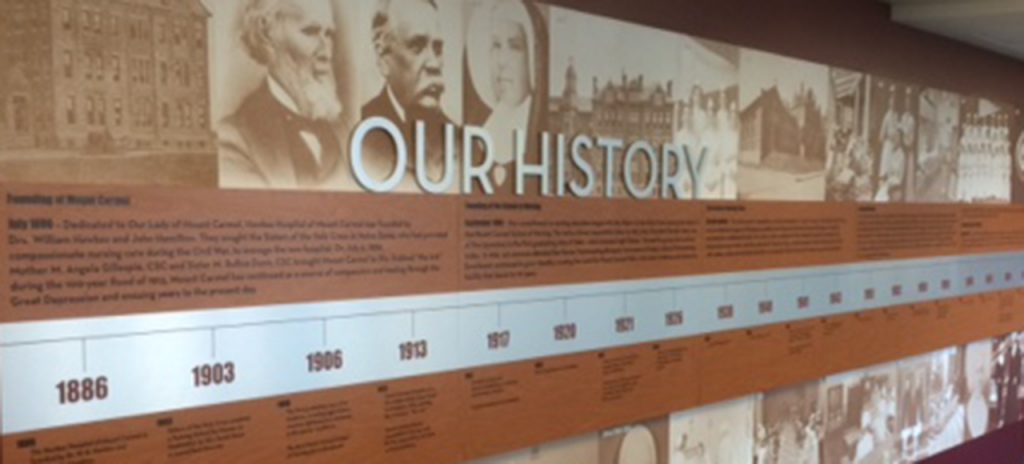 WALL MURALS
Our custom Wall Murals work well as an addition to our displays, as graphics for a hallway, or to add a theme to a wall of a room. Our murals are printed on commercial vinyl wallpaper for durability and longevity. Custom Murals can include photographs, vector graphics, lettering or a combination of all three.
---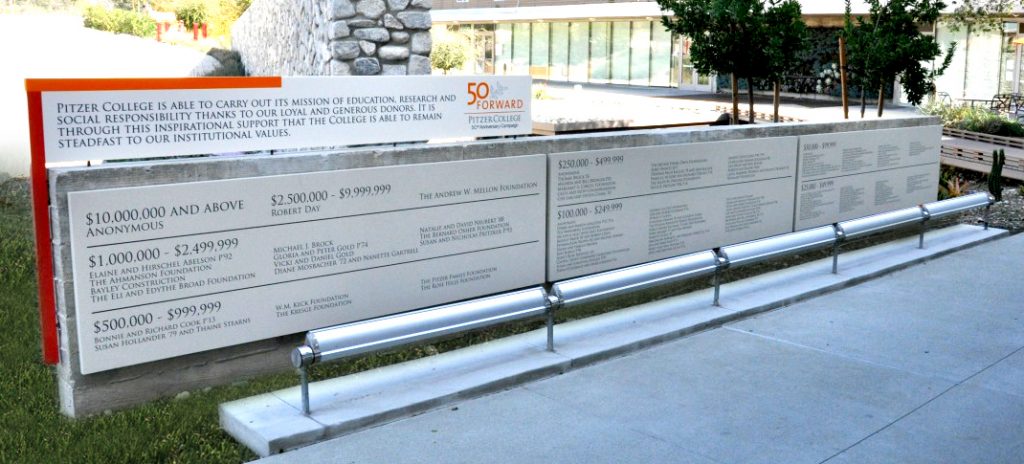 OUTDOOR DISPLAYS
If an outdoor display is more fitting for your recognition, we can design and manufacture your display from materials that will withstand the elements in your area. Our outdoor displays can be as simple as an etched Corian plaque on a metal pole for a garden or as elaborate as a multi-colored panel structure in a commons area.
---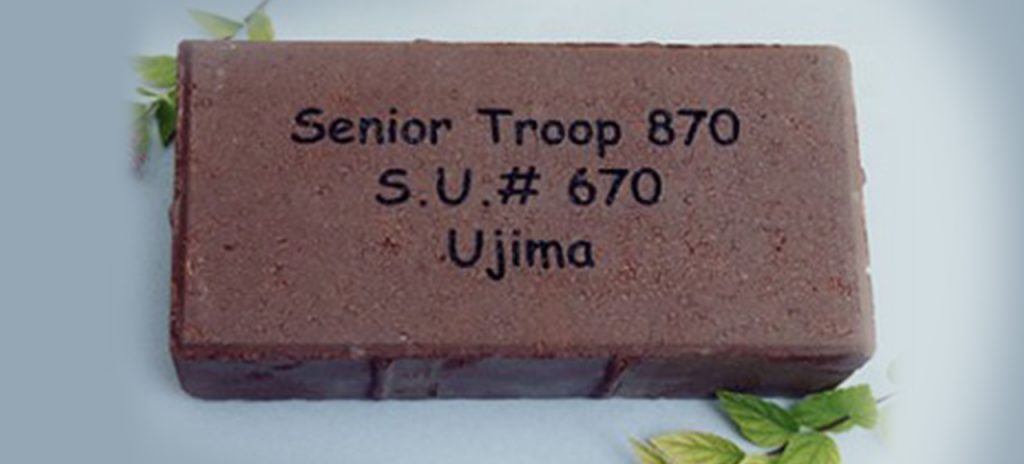 PAVERS
Sand carved pavers provide an excellent means of displaying donor names outdoors. We have several shades from which to choose.