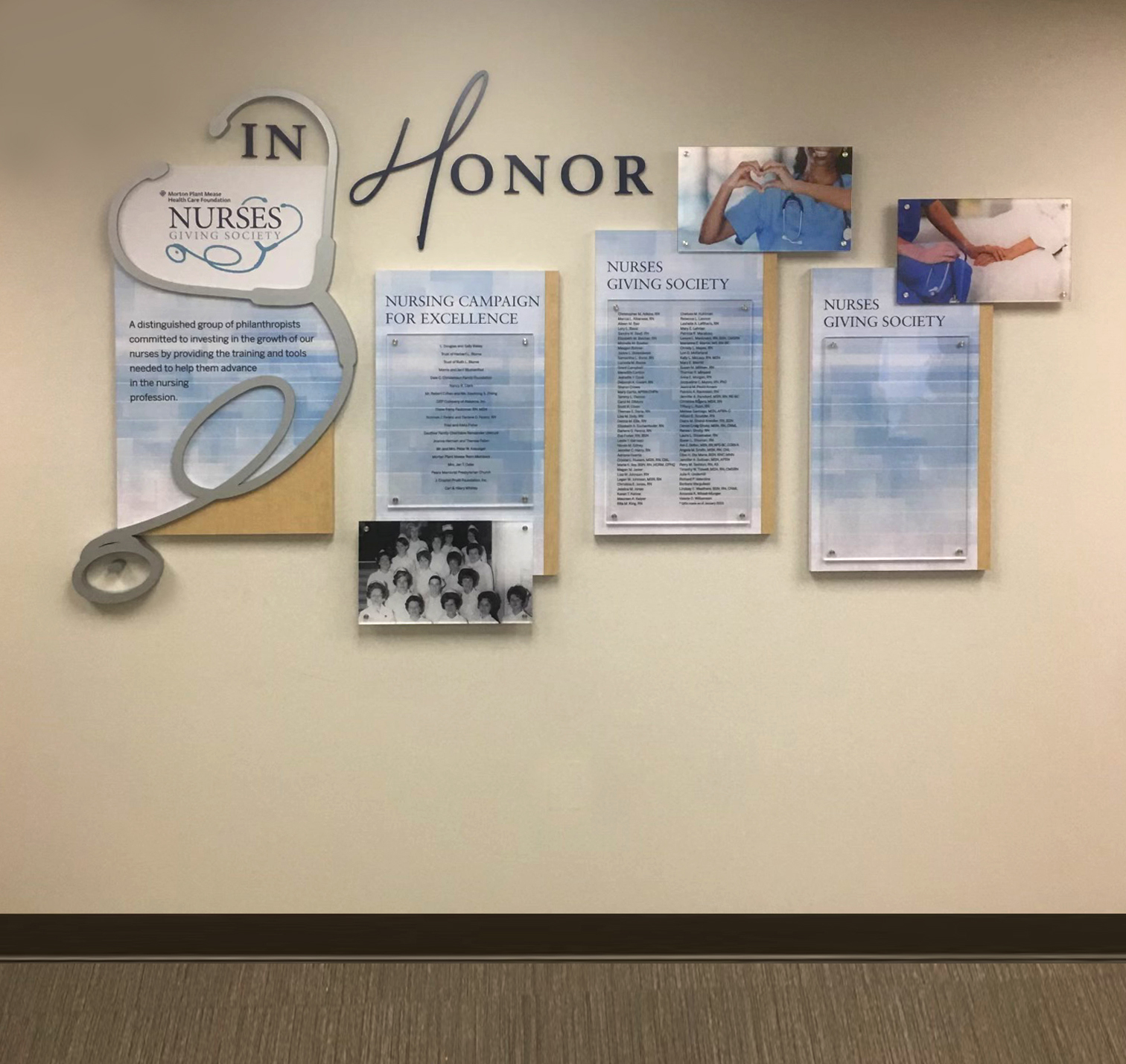 Nurses Make a Difference: Anytime, Anywhere – Always
Morton Plant Mease Healthcare Foundation celebrates philanthropists committed to investing in the growth of their nurses by providing training and tools needed to help them advance in the nursing profession. The foundation chose Partners in Recognition to help them honor their nurses while at the same time create awareness of their Nurses Giving Society. The display pays tribute to past nurses while creating a warm, compassionate respect for those still serving. The clear change system used allows the display to be maintained and updated with ease. PIR is honored to be a part of such a commendable project that will continue to change the lives of many for years to come.

Nurses Giving Society
Giving back to pay it forward. This concept captures the essence of Morton Plant Mease Health Care Foundation's new Nurses Giving Society.
Throughout history, nurses have been at the forefront of patient care, always giving of themselves through their knowledge, expertise and compassion. The principles of philanthropy complete that circle of giving back by supporting the continued education for past, current, and future nurses.
When you "give back to pay it forward," you are helping ease financial barriers for continuing education so that aspiring nurses may focus on pursuing their dreams to serve others through their calling. As members of the Nurses Giving Society, your gifts are also at work providing state of the art facilities and equipment to train the next generation of nurses. Together we are able to provide the next generation of nurses the opportunity to receive and advance their education while gaining clinical expertise in one of our hospitals.
Find out more about their Nurses Giving Society here: https://www.mortonplantmeasefoundation.org/index.php/what-we-do/nurses-giving-society